Why Educating Yourself About Mental Health Is Important
Recent statistics show that millions of people around the world are affected by various mental disorders. It's not just a small segment of the population. Mental health challenges impact individuals of all ages, backgrounds, and walks of life. And the numbers continue to rise.
Despite the prevalence of mental health issues, there is a significant lack of understanding and support when it comes to mental health. That's why it's important for us to learn about mental health so we can gain a clearer understanding of the factors that contribute to our well-being.
Some Myths About Mental Health
Have you ever heard someone say that mental health issues are just "all in your head" or that seeking help for mental problems is a sign of weakness? Let's talk about these!
Myth 1: Mental health issues are "all in your head."
This common misconception implies that mental health challenges are not legitimate or significant but simply imaginary or made up. However, scientific research and lived experiences tell us otherwise.
Mental health issues are real, complex, and multifaceted. They arise from a combination of biological, psychological, and environmental factors. They can impact every aspect of our lives, from our thoughts and emotions to our ability to function day-to-day. Recognizing this reality is essential in breaking the stigma surrounding mental health and opening the door to seeking appropriate support.
It's important to remember that mental health is just as important as physical health. Just as we should care for our bodies, we need to prioritize our mental well-being. In fact, mental and physical health are closely intertwined and can impact each other in various ways.
Myth 2: Seeking help for mental problems is a sign of weakness.
Contrary to this myth, asking for help when facing mental health difficulties is an act of strength and courage. It takes courage to recognize that we need support and to take steps toward improving our well-being.
Just as we seek medical attention for physical ailments, seeking help for our mental health is an essential part of self-care. It demonstrates resilience, self-awareness, and a commitment to personal growth. By reaching out for support, we empower ourselves to navigate life's challenges in healthier and more effective ways.
Mental health issues are not a reflection of weakness but rather a normal part of being human. We all experience ups and downs, and seeking support when needed is a strength, not a weakness.
Personal Growth and Self-Awareness
Understanding mental health conditions and their signs and symptoms can also contribute to personal growth. When we embark on the journey of self-discovery and self-awareness, we open the door to personal growth and transformation.
By becoming knowledgeable about mental health conditions, we deepen our understanding not only of ourselves but also of others. This increased awareness helps us develop empathy and compassion for those who may be going through similar challenges. It allows us to create a supportive and understanding environment around us, fostering stronger connections and relationships.
Moreover, as we recognize and understand our own mental and emotional states, we gain valuable insights into our strengths, weaknesses, and areas for improvement. This self-awareness is a powerful tool for personal growth as we identify patterns or behaviors that may be limiting us or hindering our progress. Check out this YouTube video on A Mindful Exercise for Simply Noticing Thoughts and Feelings.
For example, let's say we realize that we tend to bottle up our emotions and avoid expressing them openly. Through our understanding of mental health, we may recognize that this pattern is rooted in a fear of vulnerability or a desire to maintain a facade of strength. Once we realize this, we can consciously work toward breaking these patterns and embracing healthy ways of expressing and processing our emotions. If you're looking for a way to become more in tune with your feelings, watch this: Mindfulness and Havening Guided Meditation for Emotional Awareness.
This process of self-reflection, meditation and growth can lead to increased resilience, emotional intelligence, and overall well-being.
Additionally, understanding mental health conditions allows us to prioritize self-care and implement strategies that support our personal growth. When we recognize the signs and symptoms of stress, anxiety, or burnout, we can proactively take steps to reduce their impact on our lives. This may involve incorporating mindfulness practices, engaging in activities that bring us joy, setting boundaries, seeking therapy or counseling, or practicing self-compassion.
Promoting Positive Conversations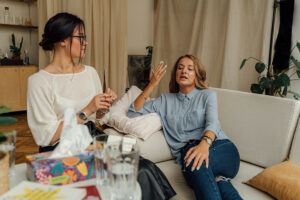 Promoting positive conversations around mental health is indeed one of the essential reasons why being educated about mental health is so important. By increasing our knowledge and understanding, we can contribute to a more compassionate and supportive society where mental health is prioritized and stigma is reduced.
When we are educated about mental health, we can engage in conversations that are informed and destigmatizing. We can debunk misconceptions, challenge stereotypes, and replace judgment with empathy. By speaking openly and honestly about mental health, we create a safe space for others to share their experiences and seek support.
These positive conversations also have the power to create a ripple effect. When we share our own struggles and triumphs, we inspire others to do the same. By openly discussing mental health, we normalize the conversation and help others understand that they are not alone in their experiences.
Moreover, promoting positive conversations around mental health helps create a culture of understanding and support. It allows us to offer a listening ear, extend compassion, and provide resources for those who may be struggling. We can become allies in the mental health journey of others, offering validation and encouragement.
We can also learn from each other's experiences and perspectives and broaden our understanding of the human experience, developing greater empathy and compassion. These conversations can challenge our own biases and preconceived notions, leading to personal growth and a more profound connection with ourselves and others.
Additionally, when we promote positive conversations, we break down the barriers that prevent individuals from seeking help. Mental health conditions can affect anyone, regardless of age, gender, or background. By creating a supportive environment, we encourage individuals to reach out for professional help, connect with support networks, and take steps toward their own well-being. This is one of the topics I talked about with Rossa Shetty on her Inner Healing Paths Podcast Episode: Healing Trauma with Havening Techniques.
Reducing the Impact of Mental Health Challenges
Understanding mental health conditions allows us to recognize and respond to early signs and symptoms. Just as with physical health, early intervention is key to preventing conditions from escalating and causing more significant distress. When we are aware of the potential warning signs, we can take proactive steps to seek support and treatment, leading to better outcomes and faster recovery.
Moreover, education empowers us to challenge the stigma surrounding mental health. By learning about different conditions and their causes, we gain a broader understanding that mental health challenges are not a personal failing, but rather a complex interplay of biological, genetic, psychological, and environmental factors. Armed with this knowledge, we can challenge and correct misconceptions, fostering a more compassionate and supportive society.
Education also aids in fostering collaboration and effective communication with healthcare professionals. When we are knowledgeable about mental health conditions, treatment options, and available resources, we can actively participate in our own care. By having informed conversations with healthcare providers, we can advocate for ourselves, ask relevant questions, and make more informed decisions about our treatment plans.
Conclusion
Educating ourselves about mental health equips us with coping strategies and self-care techniques. We can learn practical tools to manage stress, regulate emotions and improve our overall well-being.
In addition, by educating ourselves, we can become better allies to those around us who may be experiencing mental health challenges. We can offer support, understanding, and empathy, creating a network of care and strengthening meaningful connections. By promoting a culture of inclusivity and support, we contribute to reducing the impact of mental health challenges on individuals and communities as a whole.
When we take the time to understand ourselves, address our mental health needs, and cultivate a positive mindset, we open ourselves up to new possibilities and opportunities for growth.
Mental Health Resources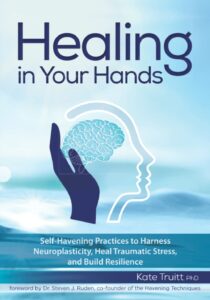 And if you're looking for additional mental health resources, I invite you to check out my book, Healing in Your Hands. This is the first of its kind, integrating neuroscience and cutting-edge research on self-havening to create a complete self-healing program that empowers you to heal the wounds of your past, create a better present, and build a brighter future.
With the tools in this book, you'll discover how to tap into your brain's amazing ability to heal itself, build a trusting relationship with your mind and body, soothe your nervous system in moments of stress, and create feelings of safety, agency, and personal empowerment – all with the power of mindful touch.
If you are interested in learning more about our mental health services at the Trauma Counseling Center of Los Angeles, please see our list of services or call us at 855-997-7101.
 To help you learn more about this topic, here are all of the resources I mentioned in this post:
References